Last year, commercial and industrial buildings used roughly 50% of the energy in the U.S. economy at a cost of over $400 billion. These buildings and operations can be made much more efficient using a variety of cost effective efficiency improvements while creating jobs and building a stronger economy. We have similar opportunities in our homes. In February 2011, President Obama, building upon the investments of the American Recovery and Reinvestment Act, announced the Better Buildings Initiative to make commercial and industrial buildings 20% more energy efficient by 2020 and accelerate private sector investment in energy efficiency. Better Buildings strategies include:
New Solutions from Market Leaders
The President is challenging CEOs, University Presidents, state and local government leaders and others to commit their organizations to lead in saving energy, saving money, and showcasing the best energy saving strategies and their results. Partners commit to an energy savings pledge, a showcase building, and to share their progress. 
Better Buildings Alliance
DOE and members from the commercial market are working to develop and deploy energy-saving technologies and solutions. The Alliance's 200+ members cover key market sectors: retail, food service, commercial real estate, hospitality, health care, higher education, and state and local building owners and managers. 
Better Buildings, Better Plants
More than 100 industrial organizations are demonstrating their commitment to energy savings by signing a voluntary pledge to reduce energy intensity by 25% over ten years. Partners are implementing cost-effective energy efficiency improvements and collectively, are showing that good energy management practices are good for business,  the economy, and the environment. 
Better Buildings Case Competition 
DOE is engaging America's brightest university students to contribute innovative ideas and solutions to persistent barriers in accelerating energy efficiency. In 2012, students from 19 universities competed to find the best solutions to the energy efficiency challenges presented in real-world case studies for the City of Houston, the District of Columbia, HEI Hotels and Resorts, and Cassidy Turley.
Streamlined Financing & Incentives
A number of financial mechanisms are being explored, streamlined, and/or clarified to improve access and uptake.  Progress has been made by updating the rules for the 179d tax deductions, and DOE is committed to working with Congress to help redesign  the current deduction to a credit that is more generous and that will encourage building owners and real estate investment trusts (REITs) to retrofit their properties. The eligibility for Qualified Energy Conservation Bonds (QECBs) has also been clarified to make it easier for state and local governments to access and make available low cost financing.
Better Information
A major barrier to greater efficiency in commercial buildings is investment-grade information for building owners and managers. Under the Better Buildings Initiative, several efforts are underway to improve the ability to assess the efficiency and energy costs of buildings and the investment opportunities in energy improvements. 
Federal Government Leading by Example
President Obama challenged the federal government to complete $2 billion in federal building upgrades using long-term energy savings to pay for upfront costs, without use of taxpayer money. Federal agencies have now identified over $2 billion in energy upgrade projects and have already awarded over $400 million in construction contracts.
Workforce Training and Learning
DOE is working to develop training materials and programs to improve the capacity of the national workforce to assess and improve the efficiency of buildings.   For example, DOE has partnered with the National Institute of Standards and Technology (NIST) to enhance training and education programs for building energy managers to include retuning, or low-cost improvement of buildings' operations.
Better Buildings Neighborhood Program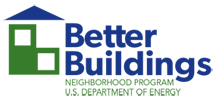 Federal funding is helping more than 40 competitively selected state and local governments develop sustainable programs to upgrade the energy efficiency of over 100,000 buildings. These leading communities are using innovation and investment in energy efficiency to expand the building improvement industry, test program delivery business models, and create jobs - with an emphasis on home energy improvement.